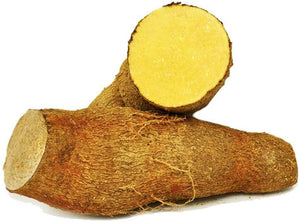 Yellow Yam is a root vegetable and is best grown in a tropical climate. Yellow yam
is also called the "Jamaican Yellow Yam", and it is an important part of the
Jamaican Cuisine, 
and is widely consumed in soup dishes, baking, or it is eaten with other ground provisions and boiled dumplings. Enjoy this deliciously dry and tasty Jamaican Yellow Yam with some brown stew chicken for a truly amazing dinner option.
Best Jamaican yellow Yam
I discovered this seller on eBay recently and thought I'd give it a try as I love yellow yam. The item was shipped out the same day for next day delivery
It arrived in excellent condition and the quality is 10 stars now I buy weekly.
I wish I'd ordered more!
Yellow yam was really good, in fact all of the fresh produce I ordered was in excellent condition. Ordering is easy, good range of products, delivery was in good time, friendly customer service. Would order again and recommend. :)
Jamaican Yellow Yam
In all honesty, the yam did not look that impressive until I cut into it a week later. I was pretty taken aback by the freshness and lovely colouring. It tasted pretty fantastic too. Great yam, with no wastage - will definitely buy again.
Fresh Jamaican Yellow Yam