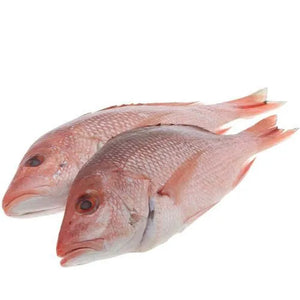 Red snapper is one of the most popular of all white fish. It is naturally found all over the world with most of the fish harvests coming from the Gulf of Mexico and Indonesia. Red snapper has a firm texture and a sweet, nutty flavor that lends itself well to everything from hot chilies to subtle herbs. Whole red snapper can be broiled, grilled, pan-fried, steamed, baked or deep-fried. Fillets are good pan-fried or steamed. Red snapper is also a nice ingredient in brown stew fish.
Small Snapper - 180g - 200g each
Medium/Large Snapper - 280g - 320g each
Happy with them and will buy again
First Order
Unfortunately could not get 4 pack and opted to take 2 pack as this was what was available. Fish very good quality and lovely, will definitely order again. Service from Customer Services very good, they contacted me to offer options, order received promptly in good condition.
(4 Pack) Frozen Red Snapper