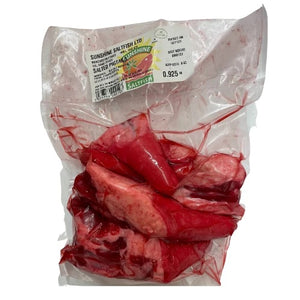 Jamaican stew peas with spinners is a cozy meal that's simple yet indulgent. Beans are boiled until tender and infused with garlic, scotch bonnet, allspice, salted beef and salted pigs tail.

Red peas (red kidney beans), stew beef, pig's tail, coconut milk, hot pepper, spices combine for a hearty dish popular all over Jamaica.
INGREDIENTS :
2 cups red peas
½ lb salt beef
1 lb stew beef (you also can use pigstail if you like)
1 scotch bonnet pepper
2 stalk escallion
3 sprig thyme
2 cups coconut milk(or 1/4 box)
6 pimento seed
3 cloves garlic
salt and pepper to taste
spinners
Pig tail, also referred to as pigtail and pork tail, are the tails from a pig used as a food ingredient in many cuisines. Pig tails can be smoked, fried, or roasted in barbecue sauce (a specialty in Waterloo Region, Ontario). They are also brine cured or used as jelly stock for brawn.
Chilled products will leave us in insulated packaging with a frozen gel pack. Please note that salted Pigtails can come in a variation of sizes and meat to fat ratios.
Ingredients: In a salt marinade, Pigtail, Ground Pepper, Colour E122 E124 E102
Par boil to remove salt & colouring.
Weight Apx 250g-350g
By Sunshine Saltfish Ltd
Excellent
I haven't cooked it as yet.
Very impressed with the packaging
Excellent
Quantity a bit small but quality was good so five stars
Great
The packaging was excellent, when it was delivered it still felt like it was in the fridge. Will be ordering again.
Exactly what I needed
I went to a few markets and butchers and none sells pork so you cannot get pigtails anywhere. Secondly the packaging was on point. I am so glad I got on Google and found you guys. Thank you.
Parcel always delivered promptly with good quality produce