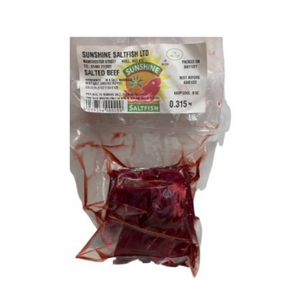 Red peas (red kidney beans), stew beef, pig's tail, coconut milk, hot pepper, spices combine for a hearty dish popular all over Jamaica.
Chilled products will leave us in insulated packaging with a frozen gel pack. 

Jamaican Stew Peas Recipe
INGREDIENTS :
2 cups red peas
½ lb salt beef
1 lb stew beef (you also can use pigstail if you like)
1 scotch bonnet pepper
2 stalk escallion
3 sprig thyme
2 cups coconut milk(or 1/4 box)
6 pimento seed
3 cloves garlic
salt and pepper to taste
spinners
METHOD:
Boil and drain salt beef twice, in a medium size pan.
Place peas, meat and garlic together in the pan, boil until peas are tender, about 1 ½ hour.
Add coconut cream, spinners, and seasoning, cook for about an hour.
Season to taste.
Thicken the mix with 3 tablespoons of flour combined with 1/4 cup water. Strain the mixture into the stew.
Boil until it thickens. Serve with rice.
Salt beef on tap!!
This site is a godsend. I've struggled to find some of my favourite Jamaican food since moving out of London. This site has everything I need and the prices and delivery are great!!!! 5*