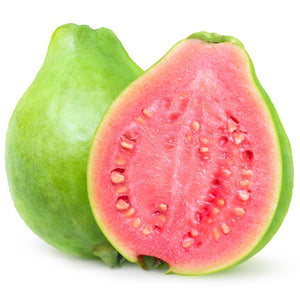 Pink guavas have a sweet musky fragrance with tropical notes of papaya, passion fruit, melon and ripe pear. They have a moderate acidity and are very sweet, in fact, they are considered to be the sweetest of all the guava varieties.
Seasons/Availability
Pink guavas are available in the late spring and summer.
Current Facts
Pink guavas are a rouge-fleshed, tropical variety of Psidium guajava. Guavas tend to be broadly classified according to the color of their flesh; either pink or white. The Pink guavas are the most aromatic and can range from pale pink to deep orange-magenta. Their color is due to a naturally occurring organic pigment called carotenoid, the same compound that gives carrots and tomatoes their distinct red color.
Nutritional Value
Guavas are an excellent source of vitamin C, providing three times that of the recommended daily allowance. They also supply potassium and pectin, which helps you lower your blood cholesterol.
Applications
Pink guavas can be used in both sweet and savory applications and may be cooked or simply eaten raw out-of-hand. They have a higher moisture content than the white varieties and therefore easily cook down into a paste or puree. Combine with soy sauce, lemon juice and allspice for a sauce over chicken and pork. Alternatively, sweetened Pink guava puree can be used to make ice cream, jams, jellies, juices, spritzers and cocktails. Other complimentary flavors include berries, citrus, bananas, ginger, honey, coconut and curry.